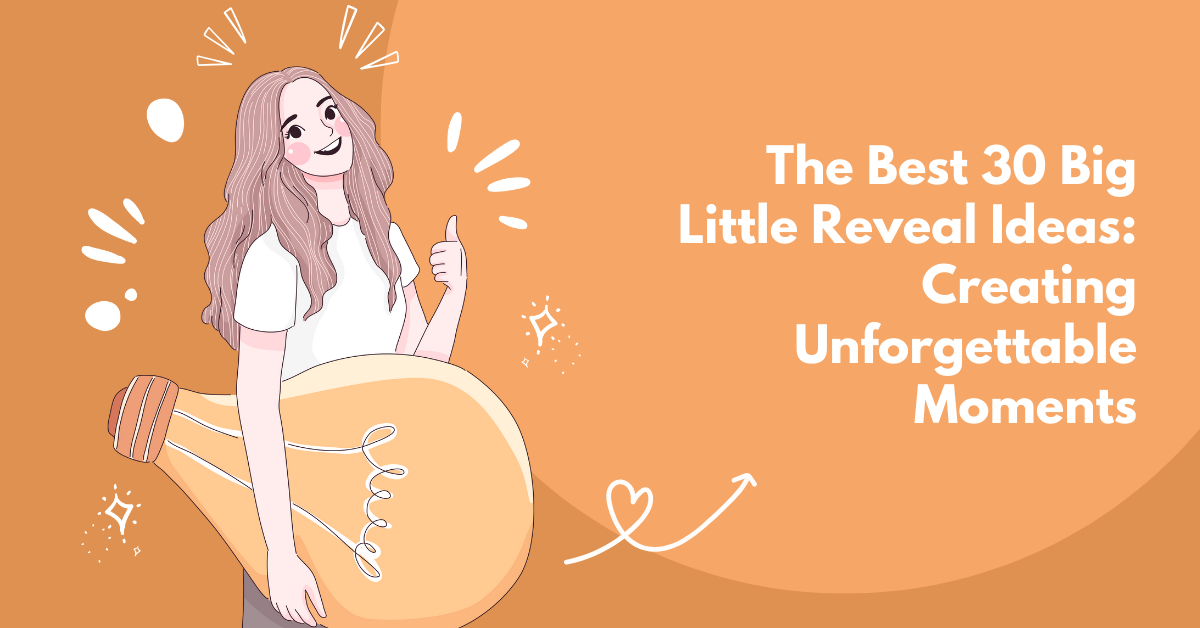 The Best 35 Big Little Reveal Ideas: Creating Unforgettable Moments
The Big Little Reveal is a time-honored tradition in the world of sororities and fraternities. It's a moment filled with excitement, anticipation, and the celebration of lifelong bonds. Whether you're a big getting ready to welcome a new little, or a little eagerly awaiting your big reveal, the magic of this experience is truly unforgettable. To make your Big Little Reveal extra special, we've curated a list of the best 35 reveal ideas that are sure to create lasting memories.
Enchanted Scavenger Hunt: Craft a whimsical scavenger hunt that leads your little through a series of clues, each one bringing them closer to discovering their big.
Puzzle of Connection: Give your little a personalized puzzle, and as they piece it together, they'll reveal a cherished memory or a symbol of your bond.
Message in a Bottle: Write a heartfelt letter to your little and place it inside a decorative bottle for them to find.
Memory Jar Exchange: Exchange memory jars filled with notes and mementos that reflect your time together.
Adventure Map Unveiling: Present your little with a map that guides them on an adventure to find you, the final destination.
Storybook Unveiling: Create a personalized storybook that narrates your journey together, complete with illustrations.
Painted Canvas Surprise: Reveal a beautifully painted canvas that encapsulates the essence of your relationship.
Balloon Avalanche: Fill a room with balloons and have your little pop them to reveal your identity.
DIY Crafting Session: Spend quality time together by creating a DIY project that represents your unique bond.
Secret Garden Discovery: Lead your little to a secret garden or outdoor spot where you'll be waiting for the reveal.
Customized Jewelry Keepsake: Gift your little a piece of customized jewelry that symbolizes your connection.
Starlit Movie Night: Host an outdoor movie night under the stars, screening a film that holds special meaning for both of you.
Time Capsule Exchange: Share a time capsule filled with items and letters that represent your journey together.
Musical Serenade: Perform a musical serenade or create a playlist of songs that tell the story of your relationship.
Personalized Artwork Unveiling: Commission a piece of artwork that captures the essence of your bond and reveal it to your little.
Fortune Teller's Revelation: Create a fortune-telling experience where your little discovers their new big through a fun reading.
Beach Bonfire Bonding: If you're near a beach, organize a bonfire where you reveal your little amidst the warmth and camaraderie.
Puzzle Pieces of Sisterhood/Brotherhood: Give your little a puzzle that, when completed, reveals a significant location or memory.
Timeless Locket Keepsake: Gift your little a locket containing a photo or message that holds sentimental value.
Personalized Apparel Gift: Present your little with customized sorority/fraternity apparel that showcases their new membership.
Stroll Down Memory Lane: Take your little on a journey to places where you've shared cherished memories together.
A Jar of Wishes: Collect heartfelt wishes from friends and family and present them to your little in a decorative jar.
Destination Dreaming: Take your little on a mini "journey" around your campus or town, stopping at meaningful locations.
Creative Haiku or Poem: Craft a personalized haiku, poem, or rhyme that captures the essence of your connection.
Outdoor Picnic Surprise: Plan a surprise picnic in a picturesque outdoor setting, complete with a cozy blanket and delicious treats.
Illuminated Pathway: Light a path with candles leading to your reveal location, creating a magical ambiance.
Message on the Mirror: Leave a sweet message for your little on a mirror, so they see it as they get ready.
Captivating Video Montage: Create a video montage of shared memories and experiences to showcase your journey together.
Time-Traveled Reveal: Take your little on a trip through time, visiting spots that hold significance in your relationship.
Artsy Canvas Collage: Compile a photo collage on canvas that narrates your time together in images.
Painted Rock Trail: Leave a trail of painted rocks that lead your little to the reveal spot.
Dreamy Hot Air Balloon Ride: If possible, arrange for a hot air balloon ride for an unforgettable reveal experience.
Customized Puzzle Message: Give your little a puzzle with a hidden message that's revealed as they solve it.
Signature Scent Surprise: Introduce your little to a signature scent that becomes associated with your bond.
Memory Lane Video Call: If distance is an issue, create a video call journey down memory lane, leading to the grand reveal.
No matter which Big Little Reveal idea you choose, remember that it's the sentiment, love, and effort you put into the experience that truly matter. These ideas serve as inspiration to help you craft a unique and meaningful reveal that will be treasured for years to come. Celebrate the spirit of sisterhood and brotherhood with creativity and heart, and embrace the joy of forming lifelong connections.