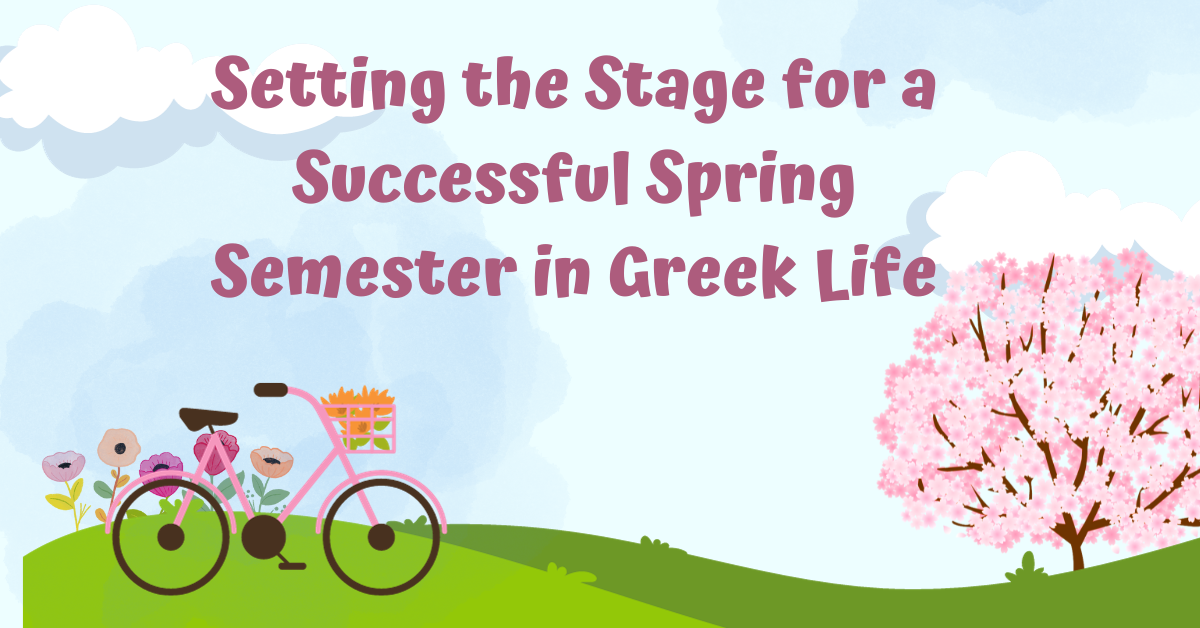 Setting the Stage for a Successful Spring Semester in Greek Life
The arrival of the spring semester brings new beginnings, warmer weather, and a fresh wave of opportunities within Greek life. As members of these vibrant and close-knit communities, it's essential to kick off the semester on the right foot. Whether you're a seasoned Greek life member or a newcomer, this guide will provide you with valuable insights and practical tips on how to make the most of the spring semester within your fraternity or sorority. From academic success and leadership development to fostering strong bonds and contributing to the community, let's delve into the strategies that will help you excel in Greek life during the spring semester.
Set Clear Academic Goals:
The foundation of a successful spring semester begins with your academic aspirations. Set definite, attainable goals for your education. Create a study schedule that balances your Greek life commitments with your coursework. Utilize resources like study groups, academic advisors, and campus tutoring services to excel in your classes. Prioritize time management and effective study techniques to maintain a strong GPA while actively participating in Greek life activities.
Reconnect and Strengthen Bonds:
Spring semester is a great time to reconnect with your fellow Greek life members after the winter break. Plan informal gatherings or mixers to catch up and reinforce the bonds of your fraternity or sorority family. Organize icebreaker activities or team-building exercises to help new members integrate seamlessly into the group. Fostering a sense of unity and camaraderie early in the semester will create a strong foundation for collaborative efforts throughout the term.
Engage in Leadership Development:
Greek life offers numerous opportunities for leadership development. Spring semester is an ideal time to take on leadership roles within your chapter. Whether it's serving as an officer, committee chair, or event coordinator, stepping up enhances your leadership skills and demonstrates your dedication. Attend leadership workshops, seminars, and conferences to hone your abilities and bring fresh ideas to your fraternity or sorority.
Plan Engaging and Meaningful Events:
Infuse the spring semester with exciting and purposeful events that resonate with your chapter's values and goals. Consider hosting philanthropic initiatives, community service projects, or educational workshops that align with your Greek life's mission. Collaborate with other Greek organizations or campus clubs to expand your reach and make a positive impact on the campus and local community.
Embrace Personal Growth:
Spring is a time for renewal and personal growth. Use this season to focus on self-improvement. Set aside time for self-care, mindfulness, and well-being. Encourage your fellow Greek life members to engage in healthy habits, such as regular exercise, balanced nutrition, and stress management techniques. By prioritizing your holistic well-being, you'll be better equipped to excel academically and contribute positively to your fraternity or sorority.
Enhance Communication Channels:
Effective communication is key to a successful Greek life experience. Establish clear and efficient communication channels within your chapter. Utilize social media platforms, group messaging apps, and regular meetings to keep all members informed about upcoming events, initiatives, and important announcements. Transparent communication fosters inclusivity, minimizes misunderstandings, and ensures that everyone is on the same page.
Reflect and Strategize:
As the semester progresses, periodically take time to reflect on your chapter's achievements and challenges. Evaluate the impact of your events and initiatives, and gather feedback from members.
Celebrate Achievements:
Take time to acknowledge and celebrate the achievements of your Greek organization and its members. Recognize milestones, both big and small, and express appreciation for everyone's contributions. This positive reinforcement not only boosts morale but also reinforces the sense of belonging and accomplishment within the group.
The spring semester presents a wealth of opportunities for Greek life participants to grow, connect, and make a positive impact. By reflecting on past experiences, setting intentions, and implementing strategies for engagement, leadership development, and well-being, you can ensure that your Greek organization thrives throughout the semester. Embrace the season of renewal and channel your energy into creating a vibrant and fulfilling Greek life experience for all members.