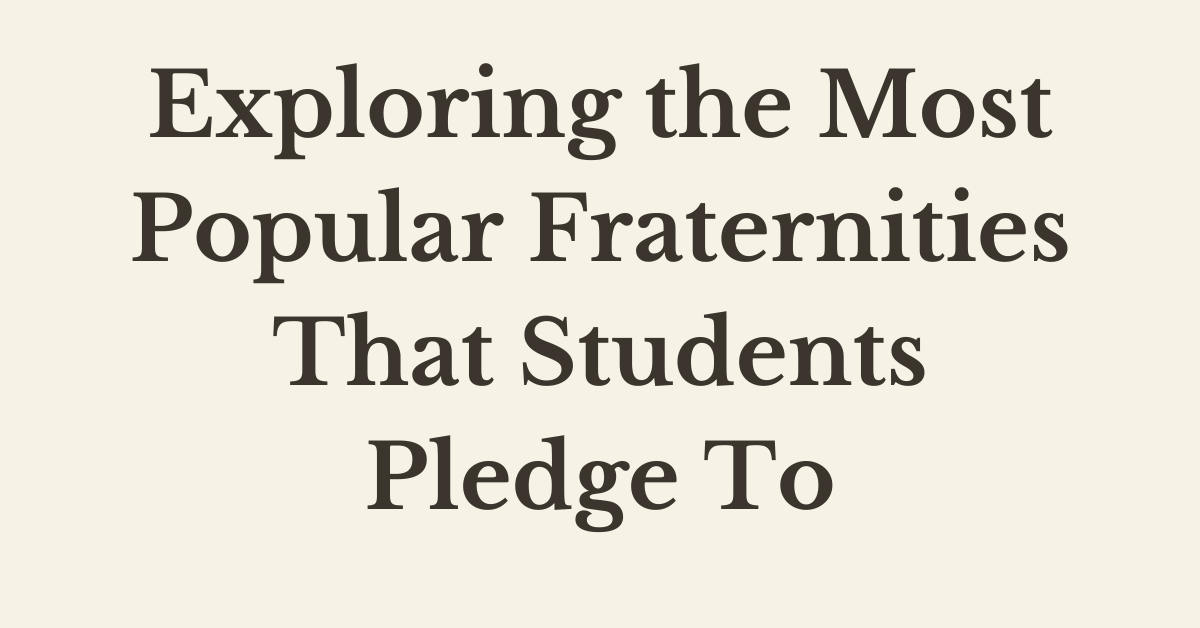 Exploring the Most Popular Fraternities That Students Pledge To
Fraternities have been an integral part of college campuses for decades, offering students a unique blend of camaraderie, leadership opportunities, and a sense of belonging. Every year, countless students across the country eagerly participate in fraternity rush, seeking the brotherhood experience that these organizations offer. In this blog, we'll delve into some of the most popular fraternities that students often pledge to, highlighting their values, traditions, and the impact they have on their members and campus communities.


Alpha Phi Alpha Fraternity, Inc.

Alpha Phi Alpha, the first intercollegiate Greek-letter fraternity established for African American men, has a rich history of promoting leadership, scholarship, and service. Founded in 1906, this fraternity has produced influential leaders in various fields, including civil rights, politics, and education. With a focus on community engagement and social justice, Alpha Phi Alpha attracts students who are passionate about making a positive impact.



Sigma Chi boasts a legacy of academic excellence, leadership development, and community service. Established in 1855, Sigma Chi places a strong emphasis on cultivating well-rounded individuals who excel in their academic pursuits while actively contributing to their communities. The fraternity's values of friendship, justice, and learning create a supportive environment for personal and professional growth.

Delta Tau Delta, founded in 1858, places a strong emphasis on character development and moral integrity. The fraternity's commitment to intellectual, social, and ethical growth resonates with students who value lifelong learning and meaningful connections. With a diverse array of activities and philanthropic endeavors, Delta Tau Delta offers members a well-rounded college experience.



Phi Delta Theta's commitment to its cardinal principles of friendship, sound learning, and moral rectitude has attracted generations of students since its founding in 1848. With a strong focus on personal development and philanthropy, Phi Delta Theta encourages its members to excel academically and contribute meaningfully to their communities.



Delta Sigma Phi, established in 1899, places a special emphasis on leadership and character development. Through programs and initiatives that foster personal growth, Delta Sigma Phi helps students develop the skills and qualities needed to succeed in college and beyond. The fraternity's commitment to values such as culture, harmony, and friendship creates a welcoming and supportive environment.



Sigma Alpha Epsilon, founded in 1856, offers a dynamic fraternity experience centered on brotherhood, scholarship, and leadership. With a strong focus on academic achievement and community service, Sigma Alpha Epsilon provides its members with opportunities to make a positive impact on campus and in their local communities.



Phi Gamma Delta, commonly known as FIJI, promotes a sense of belonging and camaraderie among its members. Established in 1848, the fraternity values friendship, knowledge, and service. FIJI's commitment to inclusivity and diversity ensures that all members feel valued and supported.


Conclusion

Joining a fraternity is a significant decision that can profoundly shape a student's college experience and beyond. The popular fraternities mentioned in this blog offer unique opportunities for personal growth, leadership development, and meaningful connections. As students explore their options during the rush process, they'll discover a fraternity that aligns with their values, passions, and goals, enriching their collegiate journey and leaving a lasting impact.
Like our blog post, Exploring the Most Popular Fraternities That Students Pledge To? You can read other awesome blog posts here such as The Ultimate Guide To Selecting The Best Sorority T-shirt Company