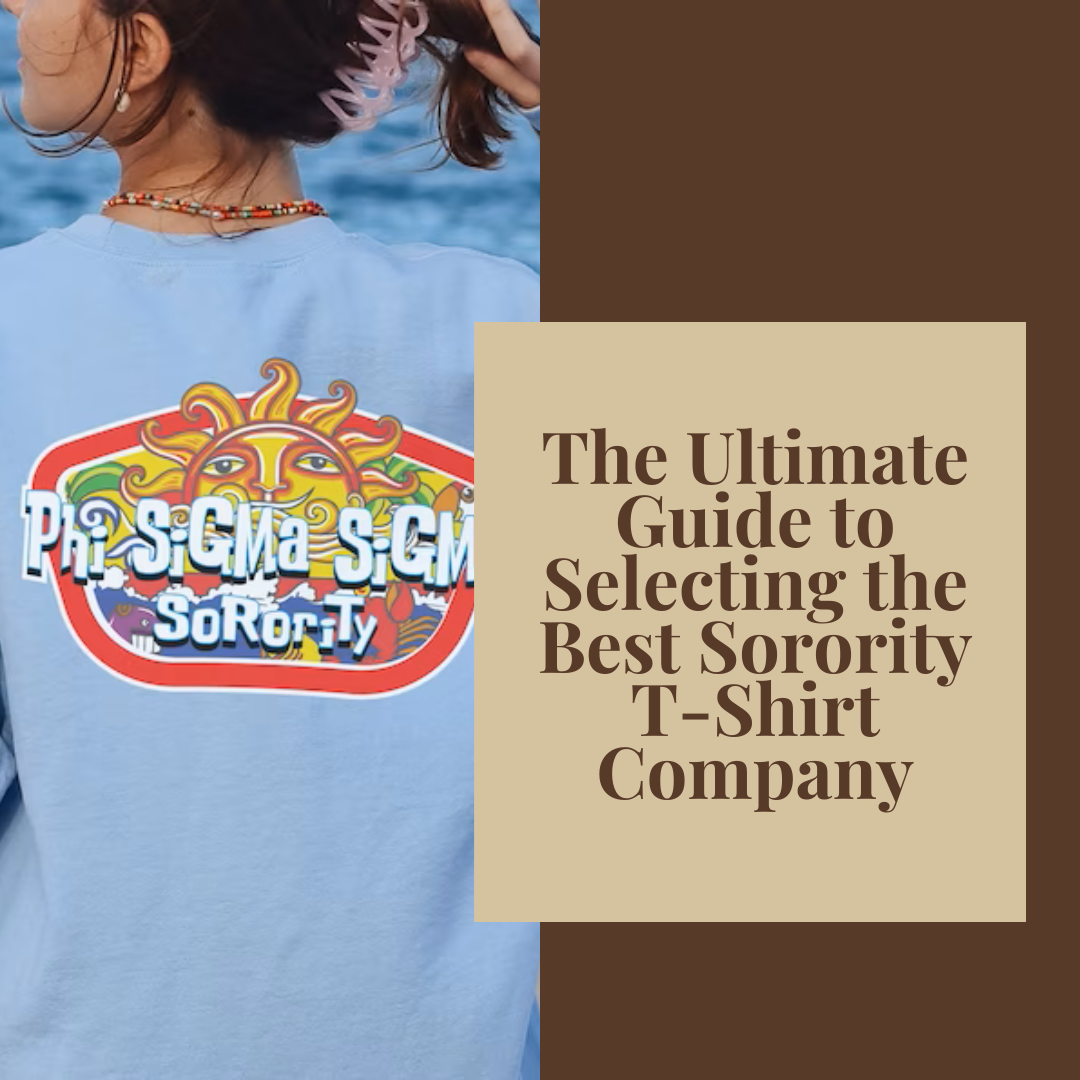 The Ultimate Guide to Selecting the Best Sorority T-Shirt Company
Sorority life is a unique and fulfilling experience, filled with sisterhood, community involvement, and a sense of belonging. One of the most cherished aspects of being in a sorority is the opportunity to wear custom-designed t-shirts that reflect the values, identity, and unity of the sisterhood.
However, choosing the right sorority t-shirt company to bring your designs to life is a critical decision. With so many options available, it's important to conduct a comprehensive review to ensure you're getting the best quality, service, and value for your sorority's needs.
Factors to Consider When Choosing a Sorority T-Shirt Company
Quality of Printing and Materials:
The quality of the printing and materials used in your sorority t-shirts is paramount. Look for companies that offer various printing techniques, such as screen printing, digital printing, and embroidery. When choosing a company to print your shirt, exercise caution because they can provide you with low-quality prints. At GreekstateofMind, we have our very own digital printing machine to ensure that your custom rush shirts will get quality prints that stick to the shirt for a very long time. Ensure that the materials used for the shirts are durable, comfortable, and of high quality.
Design Customization:
Each sorority has its own unique identity and design preferences. A great t-shirt company should allow for extensive customization options, allowing you to upload your own designs, choose fonts, colors, and graphics that accurately represent your sorority's spirit. At GreekstateofMind, all you have to do is DM us on our Instagram page and give us the design that you have in mind and we will have our graphic design team to design it for you. If you would like the design changed in any way, we can do it for you absolutely free, saving you more time in creating your own sorority rush shirt design. 
Order Process and Turnaround Time:
Time is often of the essence, especially when preparing for events, rush weeks, or philanthropic activities. Opt for a company with a streamlined order process and reasonable turnaround times to ensure you receive your shirts when you need them. At GreekStateofMind, we value your time so we will do everything we can to have it finished before bid day. 
Bulk Order Discounts:
Sororities typically require t-shirts in bulk quantities. Look for companies that offer discounts for larger orders. Bulk order discounts can significantly reduce costs, making it more budget-friendly for your sorority. We can give you a quote for your rush shirt needs! 
Customer Reviews and Reputation:
Research the company's reputation by reading customer reviews and testimonials. This will give you insights into the experiences of other sororities and their level of satisfaction with the company's products and services.
Responsiveness and Customer Service:
Effective communication and excellent customer service are crucial when dealing with custom orders. A reliable company should be responsive to inquiries, provide assistance throughout the ordering process, and address any concerns promptly. At GreekstateofMind, we assure you thar our customer service team is as responsive and available the moment you message us about rush shirts.
Ethical and Sustainable Practices:
In today's world, ethical and sustainable practices are important considerations. Choose a company that values eco-friendly printing methods, uses organic materials, or supports ethical labor practices.
Sample Availability:
Some companies offer sample shirts that you can order before placing a large order. This can give you a better understanding of the actual product quality and help you make an informed decision.
Price Comparison:
While pricing isn't the sole determinant, it's still an important factor. Compare the prices of different companies and balance them against the quality and customization options they offer. At GreekstateofMind, the business was founded due to the lack of quality fraternity shirts in the market so you can be sure that we will serve you with quality shirts at the best possible price!
Conclusion
Selecting the right sorority t-shirt company involves careful consideration of various factors. By conducting a comprehensive review of the company's quality, design options, order process, customer reviews, and ethical practices, you can make an informed decision that aligns with your sorority's values and requirements. Remember that the chosen t-shirts will not only represent your sorority but also serve as cherished keepsakes that remind members of the strong bonds and experiences shared within the sisterhood.
Like this blog post? You can read awesome blog posts here such as Fraternity Recruitment: Finding The Right Members